Laparoscopic sleeve gastrectomy is a type of weight-loss surgery/bariatric surgery. As the name suggests it can be performed through key-hole method (laparoscopy). In this technique 4 to 5 tiny cuts of half to one cm are made on the abdomen and the whole surgery is performed through these. Laparoscopic sleeve gastrectomy or Gastric Sleeve Surgery can also be performed in the scar-less manner through a single cut through the belly button. In this procedure, the stomach is divided longitudinally using surgical staplers and two-thirds of the stomach is removed. This results into a banana shaped stomach with a capacity of 60 to 100 cc. Once the sleeve is created, the staple line is over-sewed with sutures and the omental fat is stitched to it. This makes the surgery safer.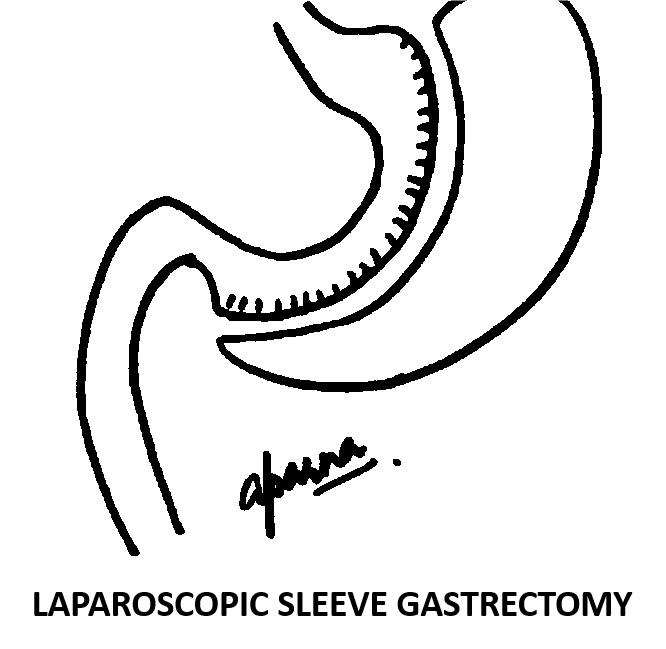 Laparoscopic sleeve gastrectomy leads to an excess weight loss of about 65 to 75% in 12 to 18 months. Patients also experience significant improvement in associated diseases like type 2 diabetes, high blood pressure, dyslipidemia, gout, PCOD, obstructive sleep apnoea, joint pains, liver disease etc. It also reduces the risk of venous thrombo-embolism and heart disease in the long term. Laparoscopic sleeve gastrectomy leads to a significant improvement in the quality of life of the patient.
In the long term the main issues observed with a laparoscopic sleeve gastrectomy are acid reflux and weight regain. However, obesity is a chronic progressive disease and as with any weight loss procedure, regular follow up with the bariatric surgeon team is the key to success after a laparoscopic sleeve gastrectomy. It is extremely important to follow a healthy lifestyle and a good exercise regime after a Laparoscopic sleeve gastrectomy.
Dr. Aparna Govil Bhasker is a Bariatric and Advanced Laparoscopic Surgeon.
Affiliations: Global Hospital, Parel; Apollo Hospitals, CBD Belapur, Tradeo and Chembur; Currae Hospital, Thane; Suchak hospital, Malad and Namaha Hospital, Kandivali
Mobile: +919819566618
Email: draparnagovil@gmail.com
Website: www.bestbariatricsurgeon.org