Appendicitis is the inflammation of appendix. Appendix is a small tubular structure connected to a part of the large intestine called as the cecum. The appendix is said to have some role in gut immunity but removal of an appendix does not lead to any major side effects.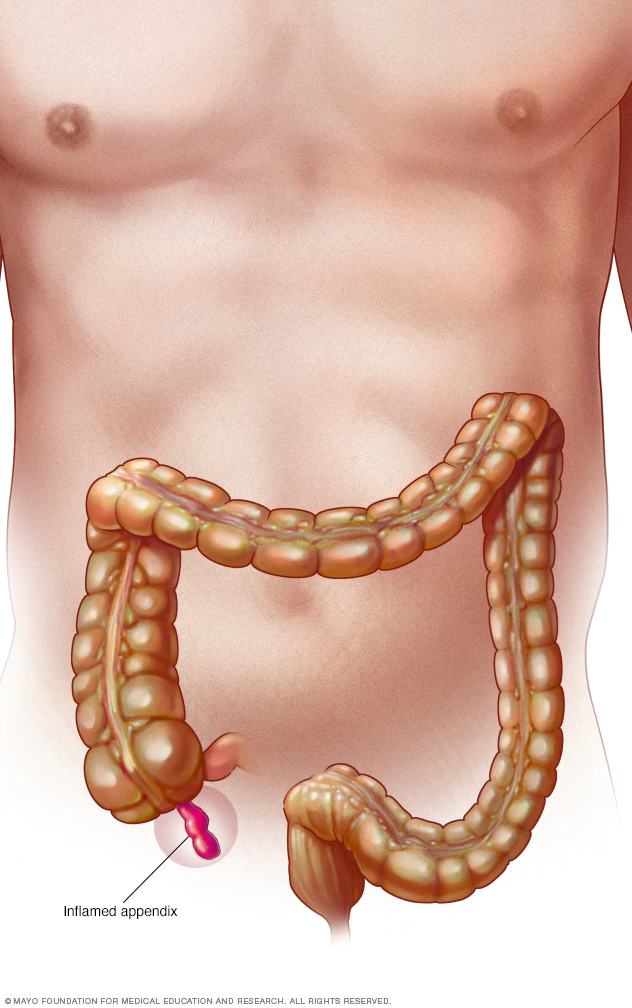 Acute inflammation of the appendix usually presents with loss of appetite, pain in right lower abdomen, fever, vomiting, sometimes inability to pass gas and distension of abdomen. Acute appendicitis is almost always a surgical emergency and if left untreated it may develop into an abscess. In severe cases appendix may perforate and may lead to infection all over the abdomen – peritonitis.
Appendicitis usually results from blockage of appendix due to stools, foreign body or cancer. It can also occur in response to any other infection in the body as well.
Diagnosis of appendicitis is usually made on clinical basis by history and examination. Routine blood work including a CBC is performed. Ultrasound of the abdomen usually nails the diagnosis. CT scan of the abdomen may be needed in some cases.
Appendix Treatment
Performing an appendicectomy is the standard treatment for acute appendicitis. In some cases where an appendicular abscess has formed, drainage of abscess may be needed followed by appendicectomy at a later stage.
Laparoscopic Appendectomy
Appendectomy is the surgical procedure done to remove an infected appendix. Traditional open surgical procedures require the appendix to be removed via a 4 to 5 cm incision made to in the lower right abdominal wall. However, in laparoscopic appendectomy surgery, the surgeons perform the procedure by making three incisions of 0.5 to 1 cm. Laparoscopic surgery is the norm now and is the procedure of choice for most cases.
Single incision laparoscopic appendectomy
Nowadays, appendectomy can also be performed through a single incision in the belly button. A 2 cm cut is made in the navel and the entire surgical procedure can be performed through this single cut. Once this cut is stitched up and it heals, there is practically no scar on the abdomen. This is also less painful as compared to 3 port laparoscopic appendectomy.
Advantages of Laparoscopic Approach
The main benefits of laparoscopic appendectomy surgery are that the patients experience lesser pain and stay in the hospital for a shorter time. Recovery is faster and most patients get back to work much sooner than those who have undergone open surgery. Chances of wound infection are minimized greatly after laparoscopic surgery. Rate of incisional hernia is also much lower after bariatric surgery.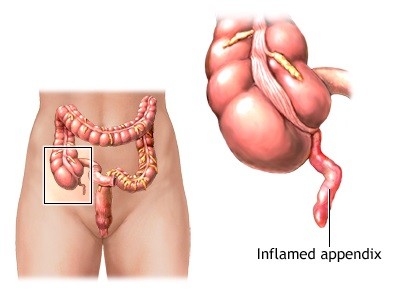 Complications
Laparoscopic appendicectomy is a safe procedure and the complication rates are similar to any other operation. These will be discussed in detail during your consultation.
Post-operative care
After laparoscopic appendectomy surgery is complete, the patient is moved to an observation room where the nursing team observes their vital organs as well as their general wellbeing. In case a patient experiences pain after the surgery, they are put under the appropriate pain medication. Mostly, the pain medication is administered via an intravenous (IV) line.
Patients are usually discharged within 1 day if the surgery was not complicated and are usually expected to resume normal activities about a week after the surgery. When being discharged, a patient is given discharge instructions which consist of signs and symptoms of potential future complications as well as pain management instructions.
Once at home, the patient should avoid strenuous activities and lifting heavy objects. The patient can take short walks in order to prevent blood clots.
A patient who has successfully undergone laparoscopic appendectomy should be expected to resume normal activities within a week after the surgery.
Appendix Surgery Cost in Mumbai, India (Appendix Removal Operation/ Appendectomy)
The cost of laparoscopic appendectomy surgery depends on many factors. Laparoscopic appendectomy surgery cost varies as per the type of hospital, type of room selected and the duration of hospital stay. In complicated cases such as appendicular abscess or appendicular perforation, the patient may need to stay for a much longer period in the hospital. Laparoscopic appendicectomy cost is usually covered by insurance companies in India.